July 10 – August 5, 2023
Chamber Music & Orchestra is a FREE TUITION studio. Selected participants pay only a small housing and registration fee.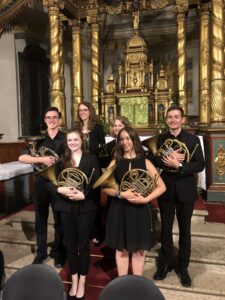 The Chamber Music & Orchestra Studio at the Trentino Music Festival offers young artists the opportunity to study and perform in an international setting with distinguished resident and guest artists. Participants have the opportunity to collaborate with talented young musicians from around the world and to experience the rich cultural exchange that comes from performing with musicians from different cultures and countries in a beautiful international setting. Training and performance opportunities include:
Master Classes
Chamber Music Coaching
Chamber Music Recitals
Symphony Orchestra Concerts
Opera Performances
The TMF Orchestra is led by Metropolitan Opera conductor J. David Jackson and encompasses a full range of strings, winds, brass, and percussion. Maestro Jackson takes great pride in providing an enriching orchestral experience for every player and chooses repertoire that enhances the learning experience. Master classes are provided by resident and guest clinicians from the US and Europe.
Opera is an integral part of the experience at the TMF and each member of the studio is assigned opera performances that are led by guest conductors. The 2023 season repertoire includes two operas by Benjamin Britten; The Turn of the Screw, and The Rape of Lucretia. These chamber sized orchestras are both challenging and artistically rewarding. The season also includes Giacomo Puccini's Suor Angelica. All operas are performed in collaboration with the Opera Performance Studio. 
TMF provides a rare opportunity for personal and professional development in the heart of the Italian Dolomites just north of Venice, Italy. The festival provides days off for leisure and travel throughout the region.
FREE TUITION – Early applications are highly recommended.
Complete your online application today.
AUDITIONS:
The Trentino Music Festival Chamber Music Studio accepts video auditions. Applicants should prepare two selections in contrasting styles that show their musical and artistic abilities along with the required selections for each instrument. Videos must be uploaded with your application.  Successful applicants will be notified within ten days of their audition.